Kid Ginseng "Blesse CD EP"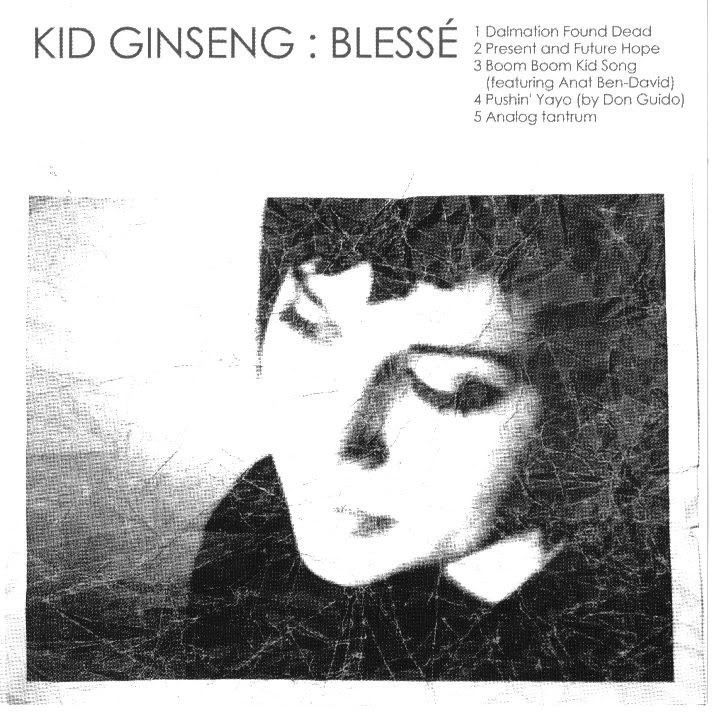 Um...what the fuck can I say? This EP is fucking awesome--straight outta Westport, CT. Kid Ginseng blends together the artistic electronic-synth-pop-rock sound in a way that destroys everything the Faint was trying to do. The first two tracks off of the "Blesse" EP are great electro-synth-punk songs . They get you dancing, and his low-end heavy voice mixed with a kind of "stuffy nose" sound really carries the songs along, and sounds great, and lulls you into a trance. I couldn't find any lyrics anywhere, otherwise you'd get some serious quotage right now. The third track "Boom Boom Kid Song (featuring Anat Ben-David)" sounds like Eve Libertine brough some old material off of the old "Penis Envy" album and had Kid Ginseng we-write Crass' music electronically. Think "Poison in a pretty pill". The fourth track is a collaboration with Jonny Steady that takes a more purely electronic sound. And the fifth is what seems to be a return to his roots of using video game samples mixed with manipulated horror sounds.
His live shows also look off the chain.
If the Refused didn't so pretentiously name their last album "The Shape of Punk to Come" it could've definitely been the title of Kid Ginseng's next release (and it wouldn't be a lie) . Especially if it was a split-release on a zip disk with
Mother 33
from Russelville, Arkansas.
"Blesse" is on
La La Land Records

You can get it in the US here:
Sacred Plague Records
Check out Kid Ginseng's myspace for the jams:
myspace.com/kidginseng